3


Introduction of the game




Full Metal Planet (FMP),
the strategic game from Ludodelire,
was published in France in 1988.
It is no longer in print.

Initially, you will be able to print the digitalized version
of the original book of rules, as well as the expansion.
Easier and faster, you can consult on line
the text of the rules of the game and the expansion.
Whatever the format, this is to be read carefully of course !
The box also contains lead pieces and a board:




According to the needs of the site is added a grid of coordinated
for 4 players standard game board and for 6 players great game board.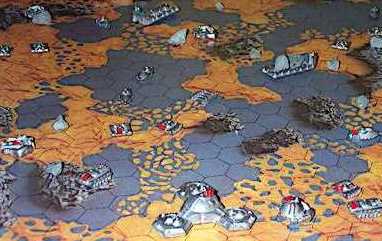 The expansion provides, in addition to the rules
for managing the landing zones,
the elements of modular board.





Consult also the rules: Games and Strategy - by Eric

- Solvalou

(in english)
as well as advices: by The Mad

- at the Cross Games

- by Simon

at Deep Space Mining

- at Beuselinck - by Alpha at the FMP forum

(all in french)
Tournament: meeting at the game room of Boulogne Billancourt.
Forum: They rebuild the parts and the game board at home.
More: New kind of modular board.
List of various plays.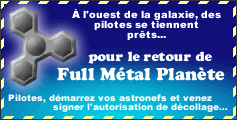 Petition for republishing of Full Metal Planet